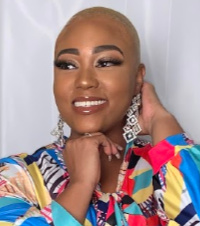 MONDAY to FRIDAY -- 10:00 AM - 03:00 PM
Royal Dynastie a Middle Ga. native also known as "Moma Deee" is all that and more! She is a college graduate of the illustrious Savannah State University where she obtained a bachelor's in Mass Communications with a minor in Theatre. Royal Dynastie got her start in radio while attending Savannah State University, and after graduating in the fall of 2014 she landed her first official radio job at Macon Radio Alliance in Middle, Ga. (Power 107.1, Kiss 105.1/107.5, Praise 99.5fm/900am). She quickly worked her way from being an intern to doing "Lil G and Moma Deee in The Mornings" 6a-10a weekdays, making her the youngest female radio personality at Power 107.1 and in Macon Ga.
She has had the opportunity to work in other markets such as Columbus, Ga. at Foxie 105 where she hosted a weekend show 12 noon-3p.
She has currently made her return back to Middle, Ga. as "The Hometown Favorite" doing on-air Monday through Friday 3pm-7pm on Power 107.1 as well as the Production Manager for the entire Macon Radio Alliance.
Through her time working in radio she has been able to reach out to both the communities in Middle Ga., and Atlanta; hosting many events, fundraisers, school projects, music conferences and more.
Her main mission is to encourage, motivate and inspire other women to strive for their goals and to continue to chase their dreams!
Her daily affirmation of faith is
I believe
I expect
I am
I have
I will
I can